School and University Programs
TESTIMONY

"Mr. and Mrs. Anderson---I would like to thank you so much for visiting with our students yesterday. Your message hit home with me and I hope it will stick with our students and staff. Living with disability can really be difficult, and I am really proud of how your are sharing your story with others. Making a difference in others is a wonderful gift that you most certainly have. I have shared my thoughts with the other school administrators and home that they will be able to find time in their schedule for you.--Thank you",

Bill Cogdill
, Principal, Chadron Intermediate School, Nebraska, March 8, 2017
Disability Speaker - Disability Advocacy- Disability Awareness -
Keynotes & Workshops- Staff Development-Consultations-
In-service training
Do you need a speaker on the subject of Disabilities and Bullying?
Ben D. Anderson will speak to your youths.
See attached information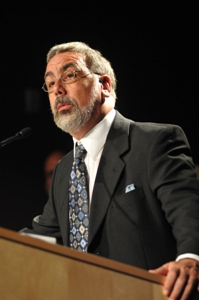 VIDEO of Ben speaking on the education process
in special education
Break Through has a wide range of school programs and presentations for students, teachers and staff.
We offer staff development training.
They focus on disability sensitivity, diversity, and motivation. We have done speaking, training, and instructor in-service training at all levels of education. Since Ben has had a much broader range of education than most of us can experience, he has some interesting insights for both students and instructors.
When "Ben Presents Ben" He…
Tells it like it is (and was) from the perspective of a real kid.
Helps build self-esteem, self-confidence, and hope.

Shows how important it is to "Never Give Up!"

Helps those who have "been there" to see how they can "get out
of their boxes" and helps those who haven't "been there" to
learn how to relate more helpfully to those who have.

Increasingly students with disabilities and those without are
walking the same hallways, sitting in the same classes, and
participating in the same activities.
Fear of the unknown or unfamiliar makes it difficult for a student without a disability to relate to one with a disability;
"What is life like for her?"
" Should I feel sorry for him?"
" What could I do to help?"
" Should I ignore her so as not to embarrass her?"
And sometimes embarrassment makes it difficult for a student with a disability to escape the protective "box" they've built around themselves to join effectively with their fellow students.
Ben's presentation helps students to learn to respond constructively to such challenges and to come away with a more positive attitude toward each other. He also helps those who have been struggling with their disability to feel more effective and hopeful. In a creative, sometimes humorous, highly anecdotal presentation, Ben describes what life is like for a student growing up with cerebral palsy. He discusses where he found his strength and hope, gives tips on how to relate effectively to a person with a disability, and teaches us all that we must "Never Give Up!"
Reviews:

November 5, 2010
"A homecoming of sort, Ben D. Anderson grew up in Kenmare, North Dakota and delivered a great message to the students of Kenmare High School. (Oct. 6th 2010) His talk centered on acceptance of those with disabilities and also touched on bullying, two topics very important in schools. His talk was interactive and our groups responded well to Ben. Great job Ben and keep up the good work."--
Scott Faul, High School Principal, Kenmare, North Dakota
March 26, 2013

"I am pleased to be writing this letter of recommendation for Ben Anderson. I have known Mr. Anderson for several years and have enjoyed reading his books and hearing him speak.

During 2012, Mr. Anderson received two grants from the SD Council on Developmental Disabilities to provide disability awareness and bullying sessions to schools across the state. In addition, he presented at several places of worship.

Mr. Anderson traveled across South Dakota during April and October 2012. He spoke to thousands of students, teachers, coaches and community members - sharing his life story and providing information on bullying and why it needs to stop.
Mr. Anderson has presented many times at conferences in South Dakota. His sessions are always educational and enjoyable as he uses humor to get his message across to everyone. Evaluations always show that people enjoy the sessions and feel they learn more about people with disabilities as a result of Mr. Anderson sharing his story.

If you have any questions, please contact me at 605-773-6369.
Sincerely,-
Arlene Poncele
t, Executive Director
Contact us for more information on having Ben speak at your school.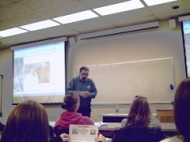 Educational & Inspirational

" Hearing Ben Anderson speak was truly inspirational."
"Eloquent--he had such a positive and high-spirited attitude"
"I cannot imagine anyone who hears Ben's story to not leave with a smile and a new sense of determination toward life...I know I did" These are but a few of the overwhelming positive reflections shared by students after attending a one hour talk by Ben. He truly captivated our hearts and minds with his message.


John Achter,
PH.D., Director Counseling Center, University of Wisconsin Stout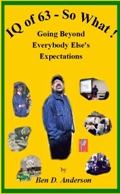 Ben's book is presently being used at two universities. It is a textbook at UW-Stout and at Minot State University.
"As an Instructor teaching students to work in the field of Vocational Rehabilitation, I feel that Ben Anderson's book "IQ of 63 - So What" is a must read for not only for students but for all professionals working with persons with disabilities. Ben takes a very thoughtful and insightful look at his life and what it means to be "labeled" as a person with a disability in our educational system. He shows what can be accomplished when one cast aside the labels placed on them by society and seeks to accomplish their own personal goals, dreams, and desires. Ben very simply and eloquently tells a story of growing up with a developmental disability in the 50's, how he was shaped by the experiences in his life, and what it means to not give up in the face of adversity. This book is so helpful in understanding what it's like to grow up with a disability from a personal perspective, that I use it as a required textbook at UW-Stout in the Psycho Social Aspects of Disability course. Many of my students have commented how much they enjoyed reading the book and the insights they have gained from it. I'm very thankful for all of the hard work and advocacy that Ben has done and continues to do on behalf of persons with disabilities."

Kyle A. Kleist
- Instructor, UW-Stout
Here he is lecturing for special education class at Minot State University, Minot, North Dakota
Ben spoke in K-12 schools in Wyoming in 2013.

reviews-Weston County #1-Newcastle

Attendee at the March 17th 2013 Sheridan College presentation wrote:

"He (Ben) needs to be speaking in our Wyoming schools
@ the junior and senior high schools,
parent groups, parent /teacher groups"


other Sheridan reviews here
Glenrock K-12
Upton K-12
South Dakota Tour
October 1st-25th 2012

(co-sponsored by the DD Council of South Dakota & Break Through Inc)
Our tour has ended - see reviews here
NEW BOOKLET ( 2014) "IF I CAN DO IT, SO CAN YOU" Going to College
by Ben D. Anderson

30 page booklet for educators and high school students with special needs to know they can and should attend higher education.
$5.00 each BUY HERE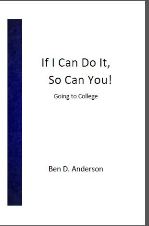 "Last One Picked, So What!
we can turn it around
( March 2012)
(review dated March 30, 2012)

Dear Ben and Dee:
"Thank you for the lovely new booklet. WOW! I was deeply touched by the genuineness and honesty of your story, Ben. Not being affirmed for who we are is painful-regardless of our age or particular disability. You continue to teach me about what it means to be accepting not only of others but also of the vulnerable parts of myself.- May God continue to bless your ministry. You both are such a gift to so many".. D. R. - Wisconsin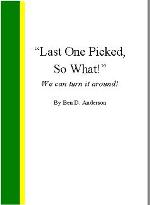 BOOKLET ON "BULLYING" (23 pages)
Good read for students
BUY HERE $5.00 each Free S/H