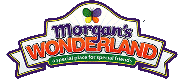 Ben D. Anderson received this Award honoring his 30 years plus advocating for people
with disabilities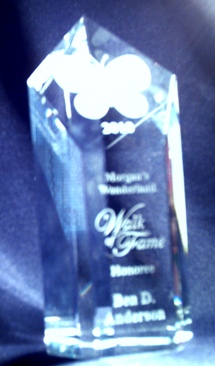 Ben speaking at "Free to Soar" Gala
9/18/2010

There were 5 honorees-
Ben D. Anderson, Sheri A. Burdine, Kathleen Caldwell
Judith Laufer & Emily Lites
( Emily could not attend the Gala)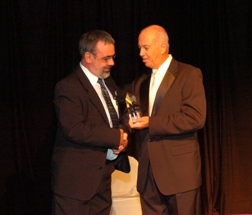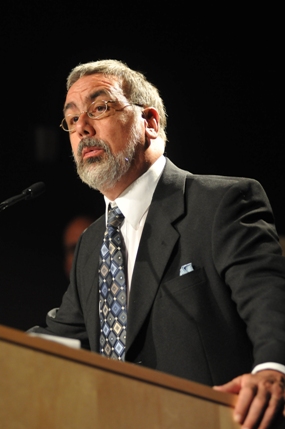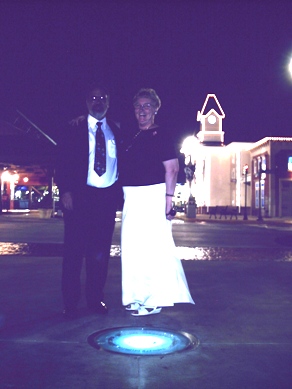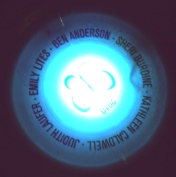 Sept. 24th 2010

"Dee and Ben,

Wanted to share some photos from the gala the other evening. Thanks again for coming down and being a part of the event. Our congratulations to you, Ben and we are very proud of our induction onto our Walk of Fame.

Sincerely, Dave Force -General Manager-
Morgan's Wonderland/STAR Soccer,
5223 David Edwards Dr. San Antonio, TX 78233
Ben and Dee at the park
on the "Walk of Fame" by
the lighted stepping stone
Sept. 9, 2010- Press Release

Five Amazing Individuals First To Be Chosen for Morgan's Wonderland Walk of Fame

SAN ANTONIO - Five individuals who each have gone to extraordinary lengths to help the special-needs community will be the first to have their names enshrined on the Walk of Fame at Morgan's Wonderland, the world's first family fun park designed with special-needs individuals of all ages in mind.

The five will share the spotlight at the first "Free to Soar" gala, a fundraiser for the non-profit park at 6 p.m. Saturday, Sept. 18, at the Morgan's Wonderland Event Center. TV personality Jennifer Broome will serve as emcee.

"Morgan's Wonderland is all about inclusion, bringing those with and without disabilities together for fun and a better understanding of each other," said Gordon Hartman, who founded The Gordon Hartman Family Foundation and envisioned Morgan's Wonderland. "Our unique park also is about inspiration and recognition. These first five Walk of Fame honorees no doubt will encourage others to do all they can for those with physical and cognitive challenges."

Four of the Walk of Fame honorees - Sheri A. Burdine, Kathleen Caldwell, Judith Laufer and Emily Lites - are from Texas, and the fifth honoree - Ben D. Anderson - is from Wisconsin. Their names will be embedded in a round, translucent "stepping stone" featuring the Morgan's Wonderland butterfly-in-flight logo and placed on the ¾-mile-long Walk and Roll Path that encircles the park's eight-acre lake.

A judging committee from Morgan's Wonderland and The Gordon Hartman Family Foundation, along with special advisors, reviewed approximately 50 nominations for the Walk of Fame. "It was incredibly difficult for the judges to select five honorees from so many outstanding nominations," Hartman said. "We hope those who weren't in the top five will be nominated again next year because we definitely plan to make Walk of Fame recognition one of the annual highlights for Morgan's Wonderland."

Brief summaries of the honorees' unselfish contributions to the special-needs community are as follows:

Sheri A. Burdine, New Braunfels, Texas - She has suffered from hydrocephalus, which occurs when excess fluid builds up in the brain, since she was age 11, however despite eight brain surgeries and other complications, she founded Hydro Angels Over Texas, a non-profit support group for those dealing with hydrocephalus. She was successful in securing passage of a state law designating October as Hydrocephalus Awareness Month in Texas. In addition, she is a wife and mother of two children.

Kathleen Caldwell, New Braunfels, Texas - A single mother who works in a nursing home, she has devoted every spare moment to her son, who is autistic, and her daughter, who was diagnosed with the Asperger's Syndrome developmental disorder and severe hypothyroidism. She works long weekend shifts so she can have time during the week to tend to her children's special needs. Despite limited resources, she has been a tireless advocate for promoting autism awareness.
Judith Laufer, San Antonio, Texas - She is the director of Playmakers, an organization that enables adults with cognitive disabilities to express their creativity and life experiences through theater. She founded Playmakers in 2000 after a successful career in professional theater. The troupe performs for local, state and even national audiences and inspires children with disabilities to see new creative options for themselves.

Emily Lites, Roanoke, Texas - While visiting her hospitalized brother (who has cerebral palsy and epilepsy and is legally blind), she came up with the idea for Emily's Smile Boxes, boxes filled with goodies for pediatric patients and their siblings. Already the 11-year-old's non-profit organization has distributed more than 1,000 Smile Boxes. In addition, she has learned firsthand how to care for her special-needs brother.

Ben D. Anderson, Amery, Wis. - He was born with cerebral palsy in 1953 and attended schools that offered few services for special-needs children. He ultimately received a "certificate of completion," not a high school diploma, yet he was determined to go to college and earn a degree. He graduated from the University of Wisconsin-Stout in Menomonie in 1992 with a degree in vocational rehabilitation. Before then, he started a non-profit organization in 1978 to advocate for people with disabilities, spoken to audiences all across the country, established a Website and written a book, IQ of 63 - So What?

Sponsorship information and other details about the "Free to Soar" gala are available from Anne Bristol at (210) 493-2811.
Morgan's Wonderland, which is completely wheelchair-accessible, features more than 25 elements and attractions including rides, playgrounds, gardens, an eight-acre fishing lake, 18,000-square-foot special-events center, 575-seat amphitheater, picnic area and rest areas throughout the park. (Check www.MorgansWonderland.com for the latest information on days and hours of operation.)

The inspiration for Morgan's Wonderland came from philanthropist Hartman's 16-year-old daughter Morgan. Her soaring spirit despite personal challenges sparked within Hartman a deep desire to create a haven not only for those with special needs but also for their families, caregivers and invited friends. In 2007, The Gordon Hartman Family Foundation was instrumental in the creation of SOAR (Sports Outdoor And Recreation), a non-profit organization to raise funds for building Morgan's Wonderland. Construction began in spring 2009 and wrapped up in March of this year.

Morgan's Wonderland is part of a larger 106-acre sports venue to encourage inclusive recreation whereby individuals of all abilities can play side-by-side. The nearby STAR (South Texas Area Regional) Soccer Complex offers 14 lighted soccer fields for tournaments, instructional clinics and special events. Proceeds from STAR Soccer go to support the operation and maintenance of Morgan's Wonderland.

Morgan's Wonderland is located in Northeast San Antonio just off IH 35 at the intersection of Wurzbach Parkway and Thousand Oaks Drive. For more information, visit www.MorgansWonderland.com, or call either (210) 495-5888 or toll-free (877) 495-5888.