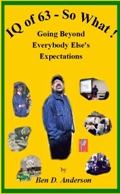 "IQ of 63, So What!" Going Beyond Everybody Else's Expectations.
ISBN 13: 978-0-615-15257-8.
$18. for book only-- free S/H-- U.S. only
AUDIOBOOK (2 CD disc) of IQ of 63 book (audio book on disabilities for educators and families)
now available ( sold only with book) Narrated by Dee Anderson
$25. book and CD ( free S/H- U.S. only)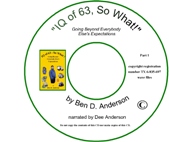 If you prefer to order book/s or books with or without audio CD's by U.S. mail
you may pay by check/money order. Send check or money order to

Break Through, Inc.
217 Stumer Rd. Apt. #4
Rapid City, SD 57701

Your purchase of the book provides funding for Break Through 's mission
and is very much appreciated--Thank you. Orders are processed within 7 business days
and mailed via US postal service media mail which delivery times vary according to
distance from South Dakota mailing point.
If you would like to have Ben speak at your conference or to your group please contact us
"IF I CAN DO IT, SO CAN YOU" Going to College
by Ben D. Anderson

30 page booklet for educators and high school students with special needs to know they can and should attend higher education. $5.00 each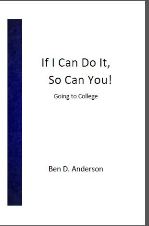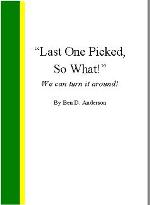 Dear Ben and Dee:

"Thank you for the lovely new booklet. WOW! I was deeply touched by the genuineness and honesty of your story, Ben. Not being affirmed for who we are is painful-regardless of our age or particular disability. You continue to teach me about what it means to be accepting not only of others but also of the vulnerable parts of myself.- May God continue to bless your ministry. You both are such a gift to so many".. D. R. - Wisconsin
"Last One Picked, So What! we can turn it around
( March 2012)

BOOKLET ON "BULLYING" (23 pages)
Good read for students
Buy here $5.00 each Free S/H
Schools and organizations can purchase multiple copies of "Last One Picked " or "If I Can Do It, So Can You" at a discounted price by emailing us with request to by@bendanderson.com

10-40 copies - $4.00 ea. Free S/H
40 copies plus - $3.50 ea. Free S/H

Your purchase helps us with funding to support our mission to provide education, support and awareness regarding people with disabilities

Contact us for more information
Book Reviews


Hi!,

I just read IQ of 63-So What! as an assignment for my transcultural nursing course! What an inspiring story for anyone that feels limited by societal labels! Mr Anderson's story is amazing! I've been recommending his book to everyone! Thank you!-
-Lorrie S. RN (the course is at Marian University, Fond du Lac, WI) 11/26/12

***********
Hi Ben,
I cannot tell you how much I enjoyed the book. It really gave me an insight as to where you came from and the obstacles you conquered. Thanks again for the opportunity to read your book...keep up the good work! Sincerely,
J.J.
(Wisconsin)
*****
Hi Dee,
I wanted you to know that I received my copy of "IQ of 63- So What! I wanted to let you and Ben know that I enjoyed it very much. I found he presented his story honestly in a very professional way. As I read the book I am reminded of the value of individuals choosing their own dreams and seeking the supports needed to obtain their goals. Often when you are working to support others staff question other staff. Are we being realistic of others goal? This book reminds us who really should get to decide. Sometimes it not the goal one obtains that is important as the process. I plan to share this book or CD with other but also suggest where they could buy their own copy.-

Brenda - 1/08/2010

******************

Thank you for your letter of Jan. 3 and for sending along a copy of your book. It's clear you have a worthwhile story for students and teachers. I will share your letter and book with our staff here at the Colorado Department of Education... Sincerely,
D.J., Commissioner of Education. (Colorado)

******
"This book is a "must read" for all folks that will be interacting with people with disabilities - which should be ALL of us. He has spoken to thousands of students in the classes in teacher preparation at UW-Stout. His message is clear as he shares "his story" and then explains to the students why Inclusion in the classroom is so important for students with disabilities. He is an inspiration and a strong advocate for those with disabilities and their parents and the teachers that willingly teach them."-
Lynn LaVenture-Instructor, UW-Stout



"Ben Anderson is a remarkable man. He has established lofty goals for himself and has achieved them. Ben's relationships with his friends and his presentations to thousands of persons over the years have brought positive turnabouts in how we view and interact with individuals with disabilities. This book deserves a wide audience and discussion over many cups of coffee!" -
(Rev) Harvey Stower, Mayor, Amery, Wisconsin


(In Memoriam--Our friend Harvey Stower passed away on Sept. 29th 2009 at the age of 65. He will be greatly missed by family, friends and the town of Amery, Wisconsin)
For more information
contact Break Through Inc at by@bendanderson.com

© 2017 Ben D. Anderson, Break Through Inc.- All rights reserved.
Book specials page click here
EBOOK NOW AVAILABLE ON GOOGLE PLAY BOOKS- IQ OF 63, SO WHAT