Church Programs

ATTENTION UNITED CHURCH OF CHRIST CONGREGATIONS-FREE PROGRAMS


in Iowa, South Dakota and Nebraska

Break Through has received a United Church of Christ Genesis Grant through First Congregational UCC in Rapid City where Ben and Dee are members. This grant is for United Church of Christ congregations in Iowa, Nebraska and South Dakota to provide presentations, talks, media on the subject of disabilities and bullying. Venues would include retreats, youth groups and those mentioned in the list below on this page. (

Family Nights, Adult Forums, Worship Time, Youth Gatherings,

Adult/Youth Retreats, Bible Studies, Council/Committee Meetings, Pastors/Church Staff Workshops, Area Schools/Clubs, Bible Camps, Staff

Development

These will be free programs - no cost to your congregation. Please email or phone us at by@bendanderson.com or 715-554-1179
*****************

We are also having a website design special for any churches at the low cost of $150. see our special here

**************

"The book "Exploration of Hospitality" by Ben D. Anderson and Pastor Huffman is not large in Volume but the message and lessons are enormous in importance. If we could all read this book and practice the lessons set forth the world would be a safer and more peaceful place. It is true as they point out "We are different from one another", and therefore must develop "the skill of observing the other and learning about the thoughts, intentions, and feelings of the other". The book is truly a prescription for a peaceful world." - Walt Richey

"Ben Anderson and Ted Huffman have written provocatively about hospitality in a new booklet with the subtitle 'How Wide is Your Welcome'. Reading An Exploration of Hospitality will give you new insight from their fresh and distinct perspective. Viewing the human family from the vantage point of experience in the world of disability (something we all can identify with to some degree) as it relates to hospitality gives fresh inspiration. Thank you Ted & Ben! "-- J. Sunde

****************
Handout Bulletins for Churches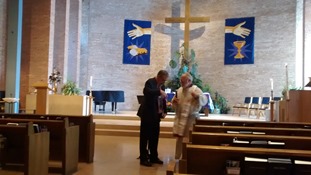 "What Does Leadership Look Like?"
Feb 5, 2017 sermon page video and text here
***********************
( Ben D. Anderson is a commissioned minister of disabilities education and advocacy for the United Church of Christ)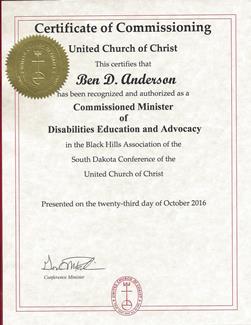 Ben D. Anderson was commissioned by the Ministry committees of his First Congregational Church United Church of Christ in Rapid City, SD; the Ministry Committee of the South Dakota Conference ( August 16th 2016) and Ministry Committee of his Black Hills Association ( Oct. 9th, 2016 ) as a commissioned minister of disabilities education and advocacy for the United Church of Christ.
He had the honor of the commission ceremony at First Congregational UCC Rapid City on Oct. 23rd. 2016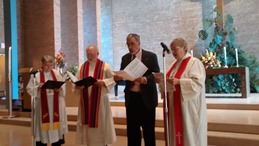 see video of commission service
for Ben D. Anderson


**************************

SEE OUR NEW YOUTH WORKSHOP PROGRAM AND MEDIA
AT THIS LINK

REVIEWS:

11/16/16
"If anyone has the opportunity to bring Ben to your place of worship, you and those in the room will be greatly blessed. I had the privilege of hearing him in the First UCC in Bloomfield, CT a little over a year ago. It was one of the most truly awe inspiring moments of my life. Do something good for you and your family and friends. Listen to Ben."
B. G. W.

5/26/2016
RE: Ben D. Anderson
Outlaw Ranch
Custer SD 57730

For many years, Ben has been providing assistance as a Resource Leader for Outlaw Ranch. During our annual staff training, we utilize resource leaders for a variety of topics to help our staff achieve a high level of service and understanding of their work. Ben has given our counselors exceptional insight into topics including: inclusiveness, diversity, and bullying.


Sessions with Ben are always interactive, and he expects participation and engagement from the group as a whole. Reaching our 18 to 24 year-old staff, especially on the second day of training, can be difficult; however Ben creates a comfortable atmosphere where dialogue is supported. Always informative and thorough, the staff feels their time is well spent.


Able to customize his presentations for content and time, Ben always works with us to ensure that he covers topics that we feel are most pertinent. We have continually found Ben very easy to work with and flexible. Personable, and willing to speak from his own experience, our staff appreciates Ben's depth of knowledge.


I highly recommend Ben Anderson, and believe with certainty that any organization would benefit from their time with him. Should you have any questions about Outlaw Ranch and our time with him, please feel free to contact me.--Matt Rusch-Director, Outlaw Ranch, email matt@losd.org
link
***************************

October 8, 2015-
Dear Ben--Thank you so much for coming to 1st Congregational Church of Bloomfield, CT. You made an amazing presentation to our parish, and it's something I will remember for a long time. Enjoyed meeting your wife, Dee. Best of luck to you in your work. --Sincerely, Audrey McNulty
*****
Lutheran Outdoors in South Dakota ( copy here)

June 4, 2013
Dear Mr. Anderson,--

"

Thank you for leading the Diversity, Disabilities, and Bullying session for Outlaw and Atlantic Mountain Ranch staff training. The staff were engaged with the entire presentation and several staff told me that your session was the most inspiring of all staff training. I really appreciated that your presentation was grounded in who we are as God's children and how we can be "little Christ's" to one another. Your years of camp experience added cred

i

bility to all your stories and the impact the counselors and staff can have on the lives of their campers and one another. We look forward to working with you in the future. Please keep our staff and campers in your prayers as we strive to care for them in thought, word and deed.

" --

In Peace - Pastor Molly Sasser-Goehner- Director

( thanks so much!

)
*****************************************



Ben speaking at Sunday Services
April 10th 2016


**********************************************
Do you need a speaker on the subject of Disabilities and Bullying?
Ben D. Anderson will speak to your youths.
K-12 schools, youth organizations and churches.
See attached information
******
Read Bens Statement of Faith (pdf download)

Ben D. Anderson speaks from the heart as he describes his own journey of faith and his awareness from a young age that all persons are made in the image of God. He reminds us that everyone has limitations, whether or not they have a documented disability, and he encourages us to serve God in spite of and even through our weaknesses. Ben speaks openly about his experiences as a person with a disability. His experiences that have included misdiagnosis and discrimination as well as support and affirmation of his gifts. He also offers helpful advice to parents of children with disabilities, drawing from his own insights and offering referrals to books, web sites, and support groups. Ben is a good communicator, promoting discussion and breaking down stereotypes, and his message of hope in Christ will be especially welcome to Christians in the evangelical tradition.

"What is life like for her?" "Should I feel sorry for him?"
"What could I do to help?"
"Should I ignore her so as not to embarrass her?".

Sometimes embarrassment makes it difficult for a person with a disability to escape the protective "box" they've built around themselves to join effectively with others.

Ben's presentation helps people to learn to respond constructively to such challenges and to come away with a more positive attitude toward each other. He also helps those who have been struggling with their disability to feel more effective and hopeful. In a creative, sometimes humorous, highly anecdotal presentation, Ben describes what life is like growing up with cerebral palsy, where he found his strength and hope, and gives tips on how to relate effectively to a person with a disability.

Hear Ben speak at a church conference on
Widening the Welcome in their churches.

Ben D. Anderson is from Kenmare, North Dakota. Ben, born with cerebral palsy, candidly shares his life story of being misdiagnosed as mentally retarded. Eight years of his life were spent at the Anne Carlsen Center in Jamestown, North Dakota (formerly the Crippled Children School). Ben is equipped to minister to persons regarding the issues associated with disabilities.

He holds a Bachelor of Science degree in Vocational Rehabilitation with an emphasis on community-based rehabilitation from the University of Wisconsin-Stout at Menomonie, Wisconsin.

Ben co-authored a book entitled "Breaking Through" in 1981 with Rev. Dick Beckmen. This book relates to his faith as he struggles to become the person that he is. Breaking Through can be used in study groups and retreats. In 2007 he published his book entitled "IQ of 63, So What!" Going Beyond Everybody Else's Expectations.

Ben travels extensively to minister in homes, congregations, youth conventions, and institutions. He is director and chief trainer of Break Through, Inc., a non-profit organization which he founded in 1978.

For more information on having Ben speak with your group or an individual consultation, please contact us or phone 715-554-2739.

The mission of Break Through, Incorporated is to expand awareness of and sensitivity towards people with disabilities. Break Through, Inc. offers sensitivity training to help corporations and organizations more effectively serve clients, employees, and members who have disabilities.

Ben conducts workshops throughout the United States and Canada. Break Through, Inc. helps others become sensitive to the needs and desires of persons with disabilities.

The needs of persons with disabilities are not only architectural. They can include the types of language and expressions used to relate to 52 million Americans who may have a disability.
Learn to:

Identify those with disabilities within the congregation and community.

Discover how your congregation can become more "user friendly" to people with disabilities.

Help educate people about disabilities and the Americans with Disabilities Act of 1990 (ADA).

ADA requires barrier-free facilities in buildings, transportation, and communication.

Provide recommendations to disability related resources. Unite opportunities for service within the congregation and the community.

Equip youth and adults to care for, counsel, and be supportive of their family, friends, and people with disabilities worldwide.

When "Ben Presents Ben".

He tells it like it is (and was) from the perspective of a real kid growing into adulthood.

He shares how embracing a personal Christian faith changed his life.

He helps build self-esteem, self-confidence, and hope.

He shows how important it is to "Never Give Up!"

He helps those who have "been there" to see how they can "get out of their boxes."

He helps those who haven't "been there" to learn how to relate more helpfully to those who have.

His purpose is to enlighten in that all people are the same in God's family.

Ben has a heart for the Gospel of Jesus Christ. He offers encouragement to motivate individuals in meeting the needs of people with disabilities.

Presentations/workshops can include:

Family Nights
Adult Forums
Worship Time
Youth Gatherings
Adult/Youth Retreats
Bible Studies
Council/Committee Meetings
Pastors/Church Staff Workshops
Area Schools/Clubs
Bible Camps
Staff Development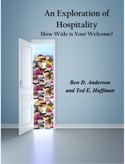 "Exploration of Hospitality"
by Ben D. Anderson and Ted E. Huffman is a faith-based 23 page booklet on hospitality.
Cost $5.00 each w/free S/H
Your purchase helps us with funding to support our mission to provide education, support and awareness regarding people with disabilities
Buy Ben's Book
"IQ of 63, So What!"
here
****
Ben's Book
"Breaking Through"
New Revised Booklet 2012
60 pages
$10. each free S/H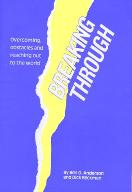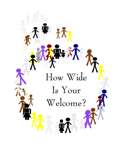 February 2010

"Early this past week Ben and Dee Anderson passed through Manhattan for a brief visit. Ben (www.bendanderson.com) has cerebal palsy and the ex-perts once (mistakenly) credited him with having an IQ of 63. But this is a fellow who refused to be defined by the limitations placed upon him by others. Today he is a college graduate, and for the past 32 years he has been advocating for the disabled.

He spoke to our Healthy Relationships group last Monday, and the thing that has stuck with me is the sense of power he has gained from his acceptance of the biblical claim that each of us is special, just because God loves us. God loves you. God loves me. God loves us. God loves "them," too. Man, that's good news!!! "David Jones-ECM at K-State.

Increase Awareness

Ben has a heart for the Gospel of Jesus Christ. He offers encouragement with Biblical concepts to motivate individuals and congregations in meeting the needs of people with disabilities.

* * *
" Ben,

Your presentation was very inspiring and uplifting. I find it absolutely amazing that your CP doesn't slow you down one bit, you are an amazing man. It was also great to hear a little about your faith. I am a Christian and enjoy seeing God brought into every aspect of life, no matter your ability or disability. Thanks a million for the great presentation!

You are an inspiration to many!

Sincerely, Sara M

.
( a student from St. Cloud State).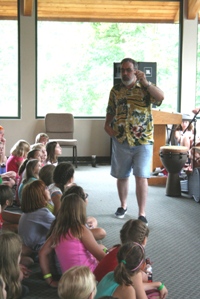 Ben at Youth Gathering.

*********

A letter from a parent--.

Dear Mr. Anderson:

Our two daughters just got home from summer camp at Lutherhaven in Coeur d'Alene, Idaho. Our oldest (who is 12) had learned a new word during her week away at camp - "disability."

It's not that she was unfamiliar with the term, of course, but more that she'd never given it much thought. We have a close friend confined to a wheelchair, but as is the nature of children, our daughter always just sort of "accepted" the fact that our friend can't walk, and never looked further.

But then she heard you speak at camp, and was deeply impressed by whatever it was you said. She's been talking about you ever since. Your topic was reinforced by the fact that her camp counselor uses a walker despite her young age. Our daughter came home with a much more mature understanding of human nature and the ability to see limitations as gifts and opportunities, as you've done with your ministry.

I don't know what specifically you talked about at Lutherhaven, but I thank you very much for speaking. You certainly made a lasting impression on our pre-teen!

Best wishes, (a parent)--2008.

***

A letter to Ben: January 28, 2010

November 9th 2011

Dear Andersons,

It was such a pleasure to meet both of you and to hear your message Ben! Many of us have enjoyed your uplifting book and wish you Godspeed in getting the word to as many as possible.
Best wishes in your ministry and your lives.--Delta UCC Church

" (Ben's) insight, as a person with a disability, has been invaluable to us in helping to understand our daughter.

His compassionate counseling has been more helpful to us than any professional in the field of working with the parents of a child with disabilities."

"Dear Ben and Dee: Your Christmas letter gave me a big lift and blessing. The picture of you was most attractive. I only wish that I could meet you in person. Thank you for your book "You've Been Chosen". Your first book and this tells me that you should keep writing and blessing many with your message.
I am enclosing a check for $25. for your Break Through Inc. ministry.

Let us keep looking up to claim Divine Power that keeps coming down, sufficient for every need. Psalm 121.--Sincerely Pastor William E. Berg.

(Dr. Berg was a 100 years old in May of 2010 and his 8th book will be published on his 100th birthday. He was Ben's mentor and supervisor when Ben was on Team in summer of 1976)