Youth Programs


YOUTH PROGRAM FOR CHURCHES, YOUTH GROUPS, CAMPS, RETREATS
HERE IS A PROGRAM FOR YOUTHS AND ADULTS ON THE SUBJECT OF FAITH AND DISABILITIES YOU CAN PURCHASE FOR YOUR OWN CHURCH, YOUTH GROUP OR OTHER RETREATS.
PROGRAM CONSISTS OF WORKBOOK FOR YOUTH LEADER, POWERPOINT AND BOOKS FOR YOUTHS.
A RETREAT, WORKSHOP, AND/OR SEMINAR EDUCATIONAL EXPERIENCE CREATED TO BE USED AS A WORKBOOK TOOL WITH THE BOOK, BREAKING THROUGH
REVIEW --"Let's Get Along"
"to Ben --I have been spending time with your program. What a gift this would be to so many. I can really see it working at a middle school age group retreat or confirmation type situation. So insightful, yet makes one really dig deep about themselves. I appreciate that you let me see this. Have (Pastors) Ted and Susan looked at it???"--B. Fleming
INTRODUCTION - This program consists of workbook ( Let's Get Along) with accompanying Powerpoint CD and accompanying book "Breaking Through" written by Ben D. Anderson and Dick Beckmen. ( 10 book minimum)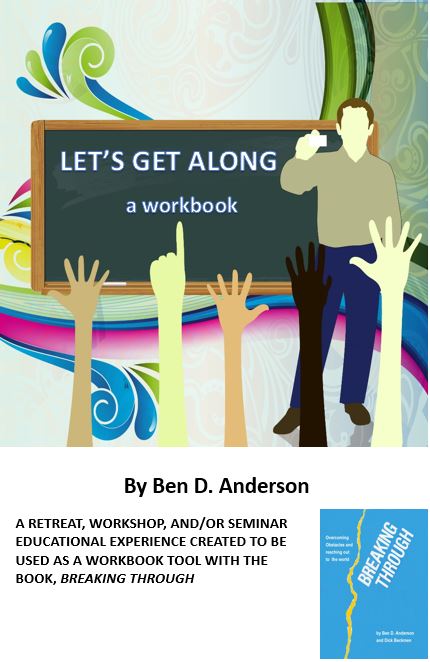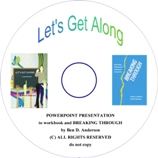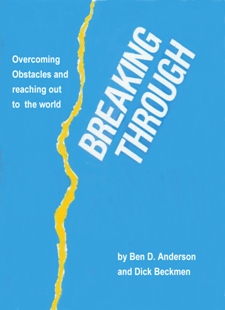 The leader's or counselor's workbook is to be used mainly as a teacher's guide, with Breaking Through as the student book.
THE PURPOSE OF THE COURSE
1) To enlighten and encourage the understanding and acceptance of disabilities and persons with disabilities
2) To discover one's person (self-awareness) as a means to affirming one's self worth and identity.
3) To understand life as a gift from God and as having meaning and purpose.
4) To examine the issues of suffering and death.

At the completion of the course the participant will know more about themselves, their faith, persons with disabilities and relating their faith to the everyday situations one faces.
CONTENT OF THE COURSE
There are eight units to the course, with each unit containing:
1) Opening Prayer and devotion.
2) Learning objectives
3) Teaching activities
4) Ideas for journal writing
5) Bible Study
6) Closing devotions and prayer
The units are:
1) Why Me, Lord?
2) Who Am I Really?
3) What are you going to do with your life?
4) Who is in this with Me?
5) Liberation
6) Family
7) The mystery of suffering
8) How do you react?
The Awareness Event and other resources would be included at the leader's discretion.
The course can be adapted to various time frames and any number of type of locations.
Breaking Through can be used with adults, youth, mixed age groups, and with groups of diverse abilities.
NOTES ••••
The opening and closing devotions are based on parts of Breaking Through to keep the continuity of the book and the work-shop.
Using various people and styles can make the devotions/prayers more effective and meaningful. Use some creativity such as:

-alternating lines between male/female, left/right, etc.

-alternating people not just leaders for reading/praying

-using a dramatic style of presentation

-using a reflective/quiet style of presentation

-using a litany style of reading
Learning Activities are more than needed for each section, thus activities must be selected to suit the type of group, etc. The parts are interchangeable--the bible study can precede the learning activities, and journal or vice versa. Mixing the sessions will keep interest higher. The course can be used for Sunday type classes also, an eight week course, or stretched out to 16.
The cost for this workshop program is $120. which includes the minimum 10 booklets of "Breaking Through",
2 booklets of "Let's Get Along" ( workbook for the leaders) and one Powerpoint CD.
Additional booklets of Breaking Through can be bought at the discounted rate of $8. each
Other faith booklets available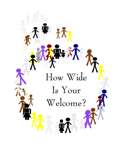 $5. each --"How Wide Is Your Welcome?" by Ben D. Anderson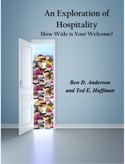 $5. each--" An Exploration of Hospitality" by Ben D. Anderson and Ted E. Huffman


Break Through Inc.
Rapid City, SD 57701
email by@bendanderson.com or 60dewl@gmail.com
715-554-1179