PRESENTATION FEES
Do you need a speaker on the subject of Disabilities, Bullying, Special Education, Hospitality, Awareness and Motivation?
Ben D. Anderson will speak to youths, staff, parents.
Ben lectures on the subject of special education and vocational rehab for higher education students.
He teaches about disabilities and special needs for businesses and organization
He motivates and inspires parents and persons with special needs to advocate for themselves and be advocates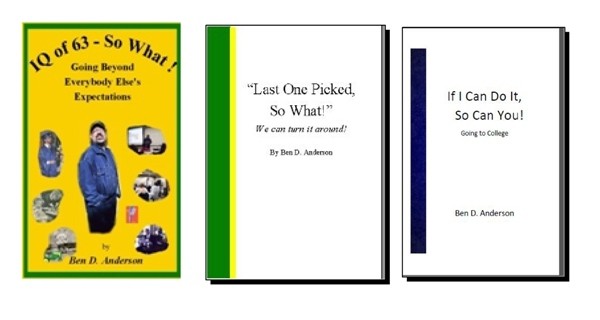 For K-12 students the subject of Disabilities and Bullying is a much needed discussion.
"Last One Picked, So What!" We can turn it around by Ben D. Anderson was written in response to an email that he received from a teacher that wanted her students to quit using the word "Retard".
He relates in this booklet what words mean and how they hurt people. This book is for 5th to 12th graders for about a 60 to 75 minute presentation and discussion period ( Q & A). We can have a discussion and work through the booklet motivating the youths and hoping that the outcome would be that the students will not use language that hurts other people and that they will not bully other kids who are different than they are. The booklet is $2.50 each in quantities of 30 or more. Program can be with or without the booklet.

"If I Can Do It, So Can You." Going to College is a motivational program that suits all students whether with or without a disability. He also speaks on the topic of self-advocacy and vocational rehabilitation.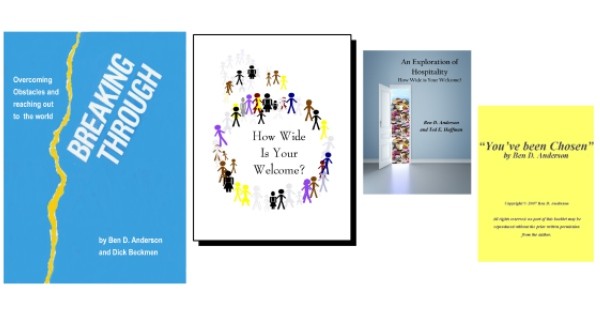 He will speak to your congregation, youth events, or summer camps or retreats on disabilities, inclusion, self-motivation and how to widen your welcome within your communities.
Please send a request if your school needs a waiver or reduction in the fees below. Fees may be reduced or waived if there is grant money or donations to help cover expenses for schools. Churches may only need free will offerings. Please inquire by email.
Professional fee will be $1500. for one day within 500 miles from Rochester, Minnesota which includes travel, lodging and meals. If travel distance is over 500 miles away from his residence in Rochester, Minnesota, it will require extra costs for travel and hotel to be paid by the hosting school, organization or church. If airfare is necessary it will be for two persons from Rochester airport. Please note: if different groups or schools negotiate with each other to have a a few days or a week of activities and divide the costs between them then it would be considered a tour and would lower costs by negating some costs as airfare and some travel.
email me here or phone me at cell phone #715-554-1179
Thank you.
Ben D. Anderson
2054 11th Ave SE
Unit B
Rochester, MN 55904
www.bendanderson.com